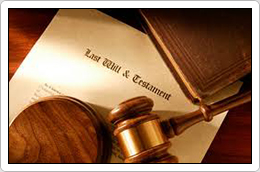 Probate
What does it mean to "probate" a will?
Probate is the process by which a valid will is given legal effect. When a will is probated, a judge determines that the will and associated paperwork filed with the Court are in proper form and appoints an Executor named in the will to carry out its intent. Once an order is signed by the judge admitting the will to probate, the Executor receives Letters Testamentary, which authorize and empower the Executor to collect assets of the estate, pay bills of the estate and distribute the remaining assets pursuant to the will's terms. Financial institutions and title companies recognize Letters Testamentary and the authority of the Executor acting under them to transfer property and funds.
What are an Executor's duties?
In a nutshell, the Executor's job is to collect the assets of the Deceased (sometimes referred to as the "Estate" of Deceased), notify the creditors and beneficiaries of the Estate, pay medical, funeral, and other bills of the Deceased, and distribute the remaining assets according to the terms of the will. This sounds complicated, but in most cases it isn't. A competent lawyer should be able to guide you through this process and assist you with the required notices with relative ease. The final act required of an Executor is usually the filing of an Inventory and Appraisement, which informs the court of the assets collected and their values.
Is probate expensive?
In most cases, no. Of course, the amount of property involved in the Deceased's Estate and the number of creditors is the determining factor. But in situations where the deceased has substantial property interests, it is more important than ever to assure that the beneficiaries designated in the will receive the assets that the Deceased intended. Costs (out of pocket expenses) and attorneys fees for probating a will and filing all required documents often do not exceed $3,000.00, all of which is payable from the assets off the Estate. The Executor should not be liable for these fees and expenses, unless there is insufficient cash in the Estate to pay them. The peace of mind you will get from having a competent attorney guide you though this process will more than offset this modest expense.