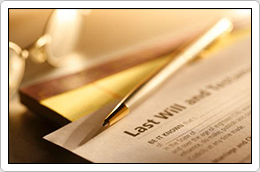 Will Contests
What is a will contest?
Sometimes family members or other potential beneficiaries believe that a will may have been executed under circumstances that call into question whether it was executed voluntarily or whether the deceased had actual capacity to execute the will. Under these conditions, heirs or beneficiaries of a previous will may try to challenge a will in court. When that happens, a judge or a jury can decide whether or not a will should be admitted to probate. If the will is successfully challenged, the decedent's property may pass according to the terms of a previous will or the laws of intestate succession.
How do I know if I have grounds to contest a will?
If you believe that your loved one was subjected to undue pressure or fraudulent conduct in the execution of a will or other estate planning document, you should immediately consult with a competent attorney to discuss your fears. Although a challenge to a will usually cannot be made until the person making it has died and the will is offered for probate, the process of collecting evidence to support your challenge can begin long before then. An attorney can help you understand the burden of proof you will have far in advance and assist you with gathering the evidence you will need before the passage of time makes that task more difficult or impossible.
Is challenging a will expensive?
Like any lawsuit, it can be. But the Texas Probate Code provides for reimbursement of reasonable attorney's fees from the Estate of the Deceased as long as the court finds that the challenge was made in good faith.